My Best Haircut So Far in Tokyo
I'm searching for the best haircut in Tokyo. After learning they use English and that they're popular among many foreigners, I decided to try out SOZO, a top salon in Omotesando. Overall I had an amazing and relaxing experience, and left with a great haircut!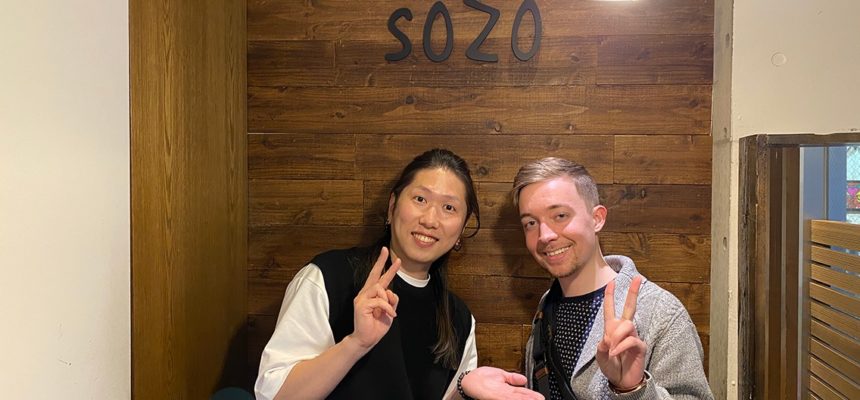 Opening a Bank Account is Easier Than Finding a Good Salon
Getting ready to go abroad for the first time, nothing prepares you for that first moment of shock when you realize you've fallen into a completely different world. Of course before hand you imagine how different everything could be or what your life might be like, but compared to reality it's completely different.
My first moments in Japan were filled with panic when I walked out of customs and realized I left my phone on the ground while filling out paperwork by the baggage claim. However after retrieving my not yet stolen phone, a feeling of wonder ushered in from the fresh air as I left the airport. Jumping on the train, getting to my hotel and passing out right away I woke up the next day wondering if I was really here.

The next few months were full of fun and plenty of challenges but all were overcome, at least until I had to find a place to get a haircut. You'd think setting up bank accounts, visiting the tax department and things along those lines would be the hardest at first, but that wasn't the case. Finding a good place to get a haircut was especially a headache since I'd been going to the same place in my hometown for years. I'd forgotten the experience of going to a salon for the first time, not to mention trying to find one as a foreigner in Japan.
Do I Have to Take My Shoes Off?
I was nervous about a few things, first of all being can these stylists cut my hair? Compared to the beautiful and thick Japanese hair, my hair is nothing like it but rather thin and on the drier side. If my hair was cut using the techniques used for Japanese customers I could end up with nothing left!
Another concern was the process of visiting a salon. Are there some customs or processes that Japanese citizens know about that I don't? Do I need to take my shoes off at some point? (I have some trauma from forgetting to do this in the past.) I spiraled a bit thinking of these ridiculous questions walking into the door.
However I was only met with great results. Salons in Japan are actually some of the best in the world, as the landscape for salons here is cut throat to say the least. As the number of salons in Japan increases every year, the amount of pressure these businesses feel to provide competitive services does as well. While this makes business stressful, as a customer this is quite a good thing. The competitive industry not only drives the service and skill standards up, but the prices down as well. If you were to spend the same amount of money at a salon in America, surely the service wouldn't be on the same level.
But How Do I Choose A Salon

In Tokyo alone there are nearly 4000 salons, so how are you supposed to choose the best one? When I search for a salon these days as a foreigner, I look for 2 big things:
First, I research where the stylists have worked and studied. One amazing thing about many Japanese salons is a large number of stylists have studied abroad in places like London and New York. This is a no stress-situation. You definitely won't be the first foreigner they've come across and they will be familiar with many different hair types.
The second is can the salon use a little English. I'd say my Japanese skills are around average as a foreigner. I can go shopping and make friends, but when it comes to things like going to the bank or describing what haircut I want, my skills aren't sufficient. The last thing I want to experience at a salon is a miscommunication. Of course, something like ending up with a buzz cut from a small misunderstanding doesn't happen, however hair and appearance are important if you're working with the public. In my opinion a salon should be a no stress experience, especially if you're paying a little extra to visit a nice trustworthy place.
I Tried Out a Top Salon in Tokyo
This time around I tried out a salon called SOZO in Omotesando. This area located in between Harajuku and Shibuya is Japan's premiere fashion district, full of big and small label brands, cute cafes and many famous spots.
SOZO is one of the top salons in Tokyo. With nearly 40% of customers being foreigners, I knew I had to try out this spot. The two owners are well-known hairdressers in Japan. After working for many years in places around Europe and in New York, they frequently travel around lecturing and teaching their approach to hair styling.
SOZO has grown to the point that the owners are expanding their business to open a school this year. They hope to bridge the gap between foreigners and salons in Japan by teaching stylists how to communicate better in English, and showing the main differences between cutting all types of hair.

SOZO's stylish and warm interior.
I was quite nervous trying out such a well known salon. Do I really fit here, I thought to myself walking down the stairs to the salon, however after my initial awkward introduction I was quickly chauffeured into the salon with kind words and gestures.
The first step was counseling. My stylist Yusuke brought me to the chair and asked what kind of style I was looking for, as well as examining my current hair and style. This step actually went by quickly, as he didn't take much time to figure out what he needed to do. We did the shampoo next, which was so relaxing. Getting your hair washed can either be great or awkward and not much in between. This time it was pretty great.
Next up was the cut, although first we started with a shoulder massage. This was kind of surprising at first, but the effect was clear. I was instantly more relaxed, and it was a nice way to close the gap when it's the first time meeting a stylist. Yusuke was very professional and friendly. There were no forced conversations, but no awkward silences.

I was really shocked by the cutting techniques he used. At one point, Yusuke cut my hair down from the top of my head along the grain of my hair as a thinning process, rather than using traditional thinning shears. Honestly I was a little nervous at first, I couldn't tell how much hair he was taking off but the results were evident. My hair tends to get a little frizzy, as well as lay in weird ways making some areas flat and some kind of puffy. Yusuke's ability to place and remove weight in the right areas was masterful. Definitely one of the best cut's I've ever gotten.
Blasting Off Into Space!
I also decided to try out a head spa treatment. I'd been about 2 months since I'd gotten my haircut so I figured why not. Let me just say, this was a great choice. Yusuke washed my hair and applied a conditioner after the cut, and we moved back to my chair where he applied some cooling spray and a the scalp treatment. Full of essential oils and soothing herbs, the treatment smelled amazing.
After coating the entire scalp, my stylist pulled out this bottle of what looked like mousse or hair spray. He applied to my head and it started crackling! I was really surprised at first, but it created an icy-hot effect. Now that all of the treatments were applied we moved on to the head massage. This was actually the best part of the experience. I was left so relaxed I was ready for a full on nap. I didn't realize but I was quite stressed that day between work as well as heading to a new salon. This head massage was actually magical, and I was feeling great for the rest of the day.

Afterwards, Yusuke hooked me up to a machine and, looking like I was ready to blast off into space, I received a steam treatment. Steam opens up the pores and allows the treatment to properly sink into the skin creating a longer lasting effect. This was also quite nice.
Finally after everything, we washed off the treatment, and Yusuke styled my hair after. I received a lot of styling advice I actually didn't know before, like the best way to apply products and hair blow-drying techniques to help style.
Final Thoughts
I was super happy with my hair cut. Like I said early, my hair can be quite temperamental and never wants to sit in a nice way, although now I realize maybe it was because of bad cuts in the past. These days I just I find myself not trying too hard to make my hair look nice, since it's cut to not only sit well but cut to fit me and my facial structure. I really attribute this to the stylists skills.

Getting your hair cut is a personal experience. Enjoying a head massage, receiving great services, having nice conversations and getting a good haircut are great ways to escape daily life for a minute and not worry about anything. Over all SOZO was a great experience and I really felt like I got my money's worth, and I was able to relax and enjoy my time there, especially that head massage. Treating yourself and chilling out for a moment at a salon isn't difficult in Japan, whether your full Japanese or a foreigner like me.