Top 10 Best Men's Salons/Barbers in Osaka
So you're looking to get your haircut in Osaka, Japan, the 3rd largest city behind Yokohama at number 2. The problem is there are over 6000 salons in Osaka, and just too many options to choose from. Today we're going to introduce you to the best salons and barbers out there. All of these places are popular not just with Japanese citizens, but foreign travelers and expats as well. Let's check out these amazing places.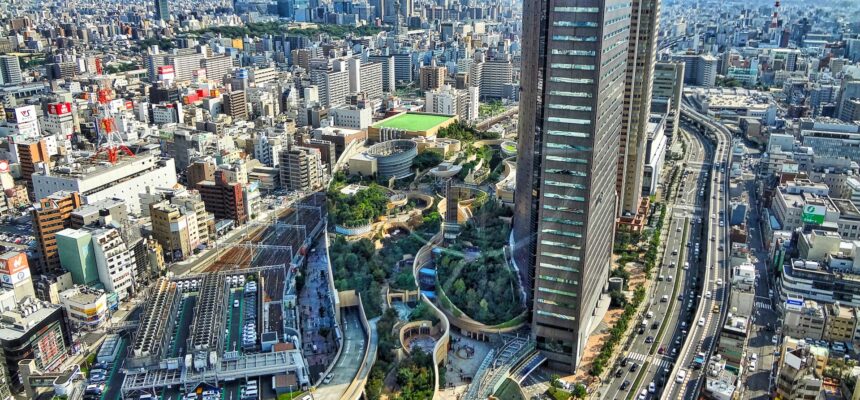 Living in Osaka
Osaka is the biggest city in Western Japan. Located close to the old capital of Japan, Kyoto, Osaka is a bustling city full of culture and cuisine. Being in the Kansai area, the people and culture of this area are a bit warmer and brighter than that of of the Kanto, Tokyo area. The standard dialect of this area is also different than what most people learn in their Japanese classes abroad.

One thing about to know about Japan is that there are hair salons everywhere. There are over 6000 salons in Osaka, and in just the Chuo ward there are more than 1000 to choose from, so this makes choosing a place to go pretty daunting, especially as a foreigner living or traveling in Japan. Not to mention the language barrier can also make things nerve-wracking.

There are also so many different kinds of salons and barbers, and depending on what you're looking for you have to search carefully. Many men might be looking for a salon because they're interested in more of a relaxing spa treatment, or looking to get a perm. In this case some barber's are great too, but traditional salons perform a lot more of these services and that's an attractive point for many.
My team and I have come up with a list of our top 10 choices for salons and barbers for men in Osaka. Also, these places all either speaking English fluently, or deal with foreign customers regularly so you don't have to worry about your Japanese level. Whether you're looking for a quick trim, or you want to go to a full-fledged salon to get a perm or dye your hair, there's definitely a spot that fits you here. Let's dive in!
Seven Men's Hair & Grooming

Experts in Men's Style
This salon is super awesome. The concept is to really help men look their best and so this salon is really a fully equipped beauty salon. However the atmosphere remains laid back and casual with the amazing staff, and even men who might not feel comfortable going to a normal beauty salon really enjoy their time here. The staff are also very into men's fashion and so if you're worried about anything in that department, your stylists are sure to help you out with that.

No Japanese Required
This salon is really popular with foreigners, and so of course the staff know how to treat and serve people who don't have perfect Japanese. In fact, there is no Japanese required here. While you will be able to communicate in English, as always I recommend bringing some reference photos of what kind of style you're thinking of before arriving just to put your mind at ease and make the process smoother. The reservations can fill up quickly here so please, if you're interested in trying this place out make a reservation quickly!
unopulir
The Spot to Go for Foreigners
This open and luxurious spot is a classic Japanese hair salon, with the super clean interior and awesome atmosphere. However don't be intimidated by the style because the warm and friendly staff will make you feel right at home. This spot is crazy popular with English speakers since you don't need Japanese skills to come here. The stylists have worked overseas in spots like NYC, so you can rest assured you won't have any big problems communicating. Definitely check this place out if you're not ready to challenge going to a salon that uses Japanese only.

Trendy and Modern
This salon has other sister stores in New York and Tokyo, so you can bet they're always in-the-loop when it comes to the latest trends and styles going around. The owner of these salons frequently travels between them, not only to research what's going on, but so that he can pass around knowledge and skills making sure the staff are also up to date. And of course they can do the classic styles as well if you aren't looking to get something too stylish or flashy. Please don't trust my word for it, give this place a try and you won't be disappointed.

Barber JOHN WAYNE
The Traditional Barber
If you like going to barbers more than traditional hair salons, then this might be the perfect spot for you. Barber JOHN WAYNE is a fully equipped barbershop. And like any good barber, you're really in and out before you know it. They really keep the line moving, so while you can easily get in for walk-ins most of the time, making a reservation assures you that your stylist has enough time to work carefully. I definitely recommend making a reservation online if you're able to. The price is 3000 yen for a cut, which is very standard in Japan. If you're from America like me might feel a bit expensive for a barber, but I assure that the level of service will convince you to pay a bit extra, please try this spot out.

English? No Problem
In my experience it's not too difficult to find English speaking stylists at hair salons, but many times barbers in Japan are all Japanese. Here you don't have to worry about it, no Japanese is required. The staff will make sure you're set so please leave it up to them. This is really an awesome place so if you're looking for a barbershop try this place out.

Relation MENSHAIR
Kind and Efficient Service
This is another Japanese beauty salon that specializes in men's cuts. However even being a beauty salon, you can still get shaving done here, and on top of that they also do eyebrows if you're looking to get that done too. The English level of the salon isn't the highest of the picks, but they are use to working with foreigners and with some pictures and the occasional google translate I'm positive you won't have any issues getting great service here.

Simple and Comfortable Atmosphere
Sometimes the atmosphere in Japanese beauty salons can be a bit intimidating for anyone, with the lights and high ceilings and luxurious designs. This spot is a nice size and there's nothing too fancy or overwhelming. Personally I also tend to stay away from the more luxurious spots, so if you're like me I think you should check this spot out. Try making a reservation online if you're interested!

MENS HAIR AZ
Convenient and Relaxing
Just 5 minutes from Shin-Osaka Station, this smaller hair salon specializes in Men's hair. While not necessarily a barber as they focus a lot on the calm and relaxing aesthetics, you can get shaving done here, and of course all of the other basic services you can get at other hair salons. The main focus of this salon is creating somewhere you can just relax, and it is really relaxing here so be careful not to fall asleep during your appointment! Also one last point, the entrance is a bit discreet but don't be nervous to walk in!

Top Level Skills and Service
The techniques and skills here are great. All of the stylists are veterans with years of experience so you don't need to worry about anything at all. The shaving here is also very popular due to the precision and care that the stylists take. More than just a haircut, I think you will actually enjoy the time you spend here. Please make a reservation soon if you're interested in this relaxing men's salon.

Barber the GM Honmachi & Umeda 3
A Modern New Way of Business
This line of barbers is wildly successful and so I've decided to add 2 of them to the list. First of all let's talk about the reservation system. It's a first-come, first-serve basis so you don't have to worry about making reservations on the phone or online. You can check the queue length online through the live camera so you don't have to worry about whether you can get in or not. Also, this store doesn't accept cash, only digital and card, so please be aware of this before heading over.

Comfort Comes First
The rooms are semi-private so that you don't have to worry about who else is around you getting your haircut. Some people don't mind the classic open barber feeling, but it's nice to have your own space and just relax. And after you get a haircut, they take a picture from all sides and save it onto their cloud system so that the next time you come, even if your stylist isn't the same as before, they can see exactly how your last haircut looked and if you don't want to make any changes, it's easy to just maintain the same style. This is especially popular with business men who have to maintain a sharp image. This place is really modern and up-to-date, and it's popular with a lot of men in the area. Please give it a try if you're interested.

grace by afloat
Fashionable and Popular
These next few salons are more traditional beauty salons, and this one is a very fashionable salon who's styles are designs are frequently featured in magazines throughout Japan. 'grace' is an up and coming salon in Osaka. With a modern/industrial interior with retro 70's accents like orange leather seats, this fresh and fun atmosphere is a big drawing point for customers. Despite being such a trendy salon, the prices here are quite reasonable with only a 5500 Yen cut. You can't go wrong with this one.

Interested in a Perm?
While there are a lot of options here for traditionally women, hair Mission does have a lot of male customers as well, so don't let the salon atmosphere scare you away just yet. A lot of men who are looking to get a perm or dye their hair come visit here. While there are many barbers these days that offer perm and dye options, I personally think more traditional salons do it best. Perms are super popular in Japan among everyone, but especially men who are looking to add texture and shape to their hair, and also looking to lower the amount of time it takes to style their hair in the morning. If you've never considered getting a perm before do some research and see if it's something you're interested in!

Hair Mission
Super Stylish
This salon is part of a popular and successful chain of salons in the area. They often work with magazines, styling the models and so their designs are featured frequently. This spot is very trendy, and up to date so for those who are looking to get a cooler hair cut, or even to get their hair dyed or permed, this is a great choice.

No Japanese Required!
It's always nice to find a spot where you don't have to worry about language. This spot is definitely English friendly so you don't have to worry about communicating. The service here is top quality and even if you have some minor miscommunication, the staff are patient and will make sure they understand what you want before making any moves. Definitely give this place a shot.

Ally's Hair
Relaxing Salon and Spa
The last but certainly not the least, Ally's hair in Umeda is a top quality salon and spa. This relaxing and luxurious spot in Osaka strives to balance every individuals facial structure to the cut, and starts by trying to make the hair healthy to create a cool style. This modern salon will relax an draw out your energy, leaving you refreshed and ready to carry out the week. If you're looking for a salon that offers head spas, this is the spot for you!

Stylish and Trendy
If you're looking for a cooler, trendier cut then this might be the spot for you. Of course a salon of this level is able to do classic more traditional haircuts if you have to maintain a professional image for your job, but I really recommend coming here for more casual and stylish looks. The stylists here have great taste and you're sure to like the styles they're able to provide. Check this place out if you're into cooler looks.