Top 10 Best English Speaking Hair Salons in Osaka
Osaka is the 3rd largest city in Japan behind Yokohama and Tokyo. Looking for a good salon in such a dense urban area can be quite difficult. On top of that being a foreigner makes this struggle a little more troublesome. With Osaka having over 6000 salons, there are endless choices. Let's narrow things down to the top 10 English speaking salons in Osaka's 24 wards.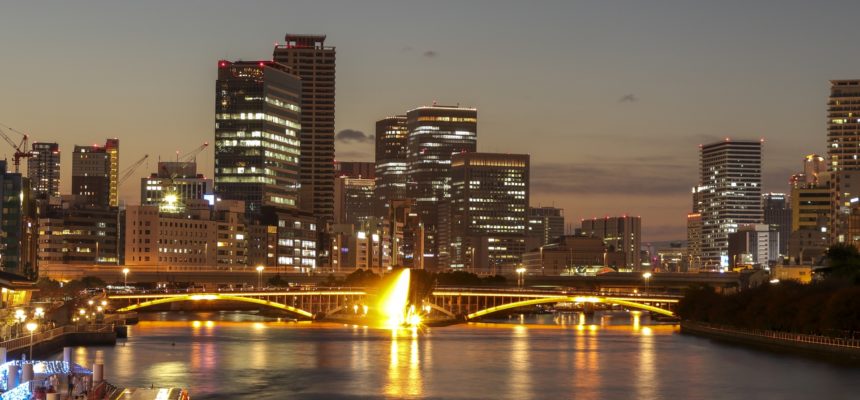 Foreigners in Japan
One thing I remember clearly about my first experience living in Japan was walking down a fairly residential street and passing 7 hair salons. Surely 7 hair salons within 500m of each other couldn't stay in business for very long, yet that is the current landscape of the beauty industry in Japan. While this makes the business side quite unforgiving for salons, the level of service and skill customers can experience is of the highest level due to the competitive nature of salons these days. Already holding such high standards of customer service and this wild beauty scene, Japan makes enjoying a wonderful salon experience quite easy.

Being a foreigner in Japan is no easy task. Lacking perfect Japanese, sticking out like a sore thumb, getting lost trying to use the expansive public transportation system, all of these things can make just leaving the house nerve wracking at times, let alone trying to schedule a hair appointment. That being said, Japan is becoming more and more of a globally connected country culturally and economically.

More and more job and travel opportunities are appearing, and the number of foreigners residing in Japan is at an all time high reaching 2.2 million people at 1.76% of the total population What's even crazier about this, more than 50% of these residents are just between the ages of 20-30 (Source: nikkei.com). The more foreigners in Japan, the more people that are looking for a good cut, and the more salons that are looking to grow their foreign customer base.

All About Osaka
One of the fastest growing areas now in Japan is Osaka, with about 2.72 million people as of 2019, coming in at the 3rd largest city in Japan, behind Yokohama with 3.7 million. However while Yokohama has over 4000 salons in the city area, Osaka hosts a whopping 6000 throughout the 24 wards. On top of that, it's estimated that there are around 300 new salons starting up each year. Finding a suitable salon out of such a massive selection is difficult, so we did the research. Our expert team having interviewed about 1000 salons throughout Japan has collected a list of 9 salons in Osaka worth the time to visit.

Osaka's salons have a specific character, compared to many sleek modern salons in Tokyo and Yokohama, the Osaka salons have a warm inviting vibe. This may come from Osaka's very friendly and forward culture, adding an authentic and real vibe to these salons. But being so friendly doesn't mean the techniques and treatments here don't compare to Tokyo's insane standards. These salons are the real deal.

Places to Go in the Chuo Ward
Out of the 24 wards in Osaka, Chuo is the biggest in terms of salons with over 1000 locations here. Before you hit the salon, there are so many places to see and things to do in the Chuo Ward. Osaka's famous castle is located here. Originally built in the 16th century, this castle is rich with history. From samurai power struggles to becoming the biggest arsenal in Japan during WWII, the fully restored castle is now a museum attracting foreigners and Japanese alike from all around. Another great spot is Shinsaibashi, Osaka's premiere shopping district. This area can stand up to the impressive Minato ward in Tokyo near Harajuku and Shinjuku. Don't count out the iconic Dontonbori river area, it is really beautiful especially at night. These areas are sure to impress as you explore the beauty battle ground that is Chuo.

Although the rest of the wards are hard to compare to the wonderful Chuo area, there are many outstanding salons throughout Osaka, even in more residential areas. Starting with the Kita ward, this ward balances modern high-risers and lush green parks. While less busy than Chuo with less tourist attractions, Kita is truly the heart of Osaka's business. Pop into a small cafe or chill out at a park, this ward gives you a true sense of everyday Japan.

10 Great English Speaking Salons
Being a foreigner in Japan can be difficult, but not everything has to be that way. Dive in and give one of these salons a shot, you won't be disappointed.
grace by afloat

A very fashionable salon who's styles are designs are frequently featured in magazines throughout Japan, 'grace' is an up and coming salon in Osaka. With a modern/industrial interior with retro 70's accents like orange leather seats, this fresh and fun atmosphere is a big drawing point for customers. Despite being such a trendy salon, the prices here are quite reasonable with only a 5500 Yen cut, as well as a full menu of options for men as well.
Address: エスパシオン梅田ビル 6F, 12-6 Chayamachi, Kita Ward, Osaka, 530-0013
Phone Number: 06-6373-7800
Website: www.grace-afloat.com
TITY
TITY is a trendy salon popular among many college students who come for the student discounts. The feel of this salon is very modern. Big retro decals on the windows contrasting with large full-body floor mirrors, this upper floor salon looking out on Osaka is wonderful. Attracting many foreign customers, this friendly salon has a wide range of options to make sure you end up with exactly the style you want.
Address: 〒550-0015 Osaka, Nishi Ward, Minamihorie, 1 Chome−9−9 2F
Phone Number: 06-6585-9767
Website: www.tity-hairsalon.com
hair Mission

Boasting an open concept, this classy feeling salon has a very modern atmosphere with stark natural materials and mixed woods contrasting with the bright faces of the staff. 'hair Mission' is a fully equipped salon with a head spa, nail and lash salon and a kids room if you're short on a baby sitter for your appointment. On top of all that, the prices are unbeatable. With great pricing from a cut to a perm or color, you can really get the whole deal here. However if you're a man don't let that scare you away, hair Mission has a full menu of options for men as well.
Address: 〒542-0083 Osaka, Chuo Ward, Higashishinsaibashi, 1 Chome−18−7 大質ビル 2F
Phone Number: 06-6245-6554
Website: hair Mission
Voice Co.

This salon is run by an extremely successful line of salons throughout the world. Stationed in Tokyo, the assort group has grown branches world wide, including major city centers like NY, Sydney, Hong Kong, and Amsterdam. Well versed in treating western customers as well as communicating in English, this salon will put your worries to rest as an English speaker. However their skills don't stop at breaking language barriers, the techniques here are top quality, having a large library of skills acquired world-wide. Also this salon is really easy to book, as there is an online option specifically in English. With a wide customer range of men and women, Japanese and foreigners, this place will surely impress.
Address: 〒550-0014 Osaka, Nishi Ward, Kitahorie, 1 Chome−3−24 ルイール北堀江2F
Phone Number: 06-6534-0504
Website: assort-hair.com
Craive New York

Craive is widely popular among English speaking foreigners in Osaka. The staff here are well known for being friendly and helpful, doing everything they can to reach the best outcome. With an outstanding array of options on the menus, this salon does it all. The fashionable atmosphere and the view of Osaka matched with the wonderful service, this salon will leave you glowing when you walk out with an amazing cut.
Address: 〒542-0081 Osaka, Chuo Ward, Minamisenba, 4 Chome−4−8 クリエイティブ心斎橋
Phone Number: 06-6241-0323
Website: www.craive.biz
K Studio New York

Featuring a quirky and retro color scheme, this cozy salon mixes takes modern lines and adds some funk. With over 20 years in the game, this salon is definitely not like the rest. You can get everything done here from treatments, perms, and they even have a head spa. Being one of the top spots in Osaka, this will leave you satisfied with the trendy cuts and outstanding service.
Address: 5 Chome-2-22 Toyosaki, Kita Ward, Osaka, 531-0072
Phone Number: 06-6371-9033
Website: www.ksny.jp

Grace Alley

Grace Alley's staff have trained in California, making this a very attractive quality for English speaking customers. After studying on the Golden Coast, they are well versed in the differences between Western and Japanese peoples' hair textures and needs. With competitive pricing from cuts to colors, and an array of extra treatments on the menu, this is a one-fits-all salon. Grace Alley is also well known for styling appointments, so when you have a special occasion, come here for a blow out or hair arrangement. Sit back and enjoy, while Grace Alley deals with the rest.
Address: Melody-Heim Nakatsu II, 1 Chome-12-11 Nakatsu, Kita Ward, Kita-ku Osaka 531-0071
Phone Number: 06-6136-3916
Website: www.gracealley-hs.com
Fam Internatonal

This salon is quite popular with younger women. Whether you are looking for a trim, or a chop, this salon executes every style to the highest degree. Able to use English well, this salon has been gaining traction with a lot of young women working abroad in Osaka. If you're particularly worried about not being able to speak Japanese, you can book ahead for a stylist who speaks better English, however all the staff can speak to some degree in terms of hair styling. This salon will do everything they can to make sure you leave happy with healthy beautiful hair.
Address: 〒550-0015 Osaka, Nishi Ward, Minamihorie, 1 Chome−22−6 2F
Phone Number: 06-6556-6433
Website: www.fam-international.com
Ally's Hair

Allys hair ShinsaibashiOPA is a top quality salon and spa. This relaxing and luxurious spot in Osaka strives to balance every individuals facial structure to the cut, and starts by trying to make the hair healthy to create a beautiful style. This modern salon will relax an draw out your inner beauty, leaving you refreshed and ready to carry out the week.
Address: 〒542-0086 Osaka, Chuo Ward, Nishishinsaibashi, 1 Chome−9−2 OPAきれい館 2F
Phone Number: 06-6244-0339
Website: www.allyshair.com
unopulir at HERBIS PLAZA

Conveniently located in the heart of the city, this salon just recently opened in Osaka. With hairdressers who have experience working in big overseas places like New York, this salon offers a no-compromise service, what you want is what you get. Cuts, colors, perms, this salon offers many options.
Having stores in New York and Tokyo, this salon is well connected with new trends and techniques. The owner of the salon frequently travels between these branches to offer his knowledge and techniques to the staff, not to mention, this salon is a total beauty salon. If you're looking to try out some lashes, nails, or luxury hair treatments give this salon a try.
Address: 〒530-0001 Osaka, Kita Ward, Umeda, 2 Chome−5, 25 HERBIS PLAZA 3F
Phone Number: 06-4256-8808
Website: www.uno-pulir.com