Top 14 Best English Speaking Salons in Tokyo
Finding a salon that really fits you is no easy task, let alone in one of the biggest cities in the world. Whether your traveling in Tokyo or living here full time, going to a salon for a cut is a great experience. Let me introduce 14 salons that speak English. We're focusing on 3 areas: Omotesando, Azabu and Daikanyama. All located around Shibuya, this is a convenient and trendy location to try getting a new style.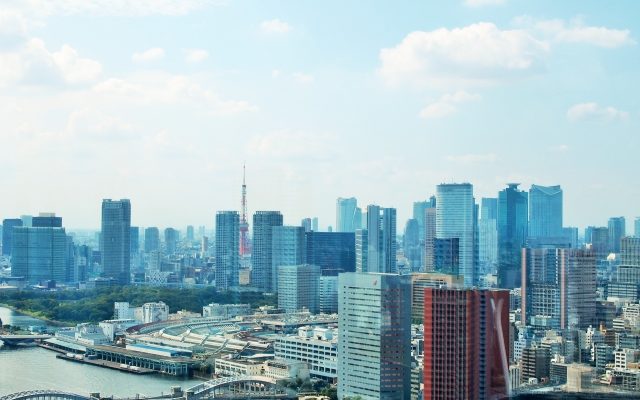 The Current Landscape of the Beauty Scene in Japan

One thing I remember clearly about my first experience living in Japan was walking down a fairly residential street and passing 7 hair salons. Surely 7 hair salons within 500m of each other couldn't stay in business for very long, yet that is the current landscape of the beauty industry in Japan. While this makes the business side quite unforgiving for salons, the level of service and skill customers can experience is of the highest level due to the competitive nature of salons these days. Already holding such high standards of customer service and this wild beauty scene, Japan makes enjoying a wonderful salon experience quite easy.

The Shibuya and Harajuku area a hot spot for high-end salons in Tokyo. Being a very fashionable area, the number of salons has increased greatly recently. This combined with the fact that there are a large amount of foreigners here has pushed many salons in this area to be much more foreigner friendly.

Over the past 10 years the tourism industry in Japan has skyrocketed. As global travel becomes more accessible to more people, Japan's tourist levels rise and rise. Full of rich history, and unique tradition Japan's culture captures the hearts of many. And as the tourism industry grows so is the salon industry, driving the beauty scene to become even more competitive.

During this growth period, many salons have come and gone. What makes a popular salon these days consists of 3 big points.
First is the style of the salon. Aesthetics are a important when customers are looking for the total package. A good aesthetic helps you enjoy a more relaxing experience and escape daily life for a few hours.
The second is of course the technique, although this isn't hard to find these days in Japan. As the industry becomes more competitive, the skill level of average stylists increases, and this is why Japan has some of the best hairdressers in the world.

These days in Tokyo, many of the top salons send their stylists overseas to train in places like London and New York where many of the Western styles and trends are born. Taking this and adding it to Japanese insanely high customer service standards makes for a truly wonderful experience at salons.

Lastly, the most important is the bang for your buck. How much do you really get for your money, and is it worth it? Luckily you don't need to worry about this part, we've got your back.
Now that many salons use English and also know how to treat many types of hair, foreigners are able to enjoy this experience too without the worry of a bad story to carry around for 3 months while your hair grows out.
Great Areas in Tokyo for Salon Hunting

Let's look at some popular areas in Tokyo. First off, Omotesando is probably the best place to go for a stylish cut. Being one of Tokyo's newer developed areas, Omotesando in Minato City is the center of fashion in Japan. Next to Harajuku where famous Japanese fashion trends are born weekly, and to Shibuya one Tokyo's most famous districts, a meld of these two areas makes for a great place to find trendy hair salons.
Whether you want to go shopping, find a trendy cafe, or go hunting for some used luxury bags, Omotesando is the heart of all things fun and fashionable.

Next up is Azabu-juban. This area is where most of Japanese foreign embassies are located, so you will be able to find people from all over the world in this more residential area. This area is also very popular as a salon location and because there are many foreigners, most of the best salons in this area use English frequently. If you don't want to visit such a commercial tourist area for a good cut, I'd recommend Azabu for you.

Lastly let's check out Daikanyama. This area isn't widely known among foreigners, but its convenient location in West Tokyo makes it a prime location for amazing salons that dodge the hustle and bustle of the main city areas. Daikanyama is very fashionable among locals, being near Ebisu which is known as a place many young people visit for dinner and drinks.
Having some amazing spots, salons in this area are especially looking to serve more foreigners and compete with locations in the more well-known parts of Tokyo. If you aren't interested in being in a very crowded area, Daikanyama is a must go for your salon trip.

Best Salons in Tokyo
Most of our selected salons are in these three main areas, however there are amazing salons all over. Depending on what kind of experience you want we have something here for everyone, so let's dive in and look at the best salons throughout Tokyo.
SOZO

The interior of SOZO.
This is a no risk choice, so if you're unsure of a salon to visit I highly recommend this one. Attracting hundreds of foreigners from all around the world, all members of this salon are fluent in English. The owners having worked in places like London and NYC understand the importance of a global perspective, and able to accommodate western customers in both language and style, SOZO is the leading salon in Tokyo. If you're looking for a salon that will cater to your individual hair needs, this is the one for you.
By carefully selecting the right treatment and dye to suit each customer, every coloring achieves the highest grade of execution. While this salon is well known for its masterful selection of dyes, the unique cutting techniques used by the staff are just as impressive. After the hair is balanced with a wet cut, it's carefully refined through a dry cut to achieve a flawless look. With the use of skilled dry cuts, expansive color menus and personalized hair treatments, a balanced cut and color that leaves your hair healthy is a guarantee at SOZO.

The two co-owners and famous stylists of SOZO.
In recent news, SOZO is opening their own beauty school in May 2020. After growing to become one of the leading salons in Tokyo, the next step for the two owners is opening a beauty school. They hope that more salons can become accessible to foreigners and share the Japanese salon culture with people from many different backgrounds. If you're looking for a trustworthy salon with excellent technique and service, this is a must try.
Address:〒150-0001 Tokyo, Shibuya City, Jingumae, 4 Chome−25−1 B1F
Phone Number: 03-3478-8692
Website:sozo.hairmake.com
Hayato Omotesando

Bright interior of Hayato Omotesando.
The Hayato Salons are a popular chain with locations in New York and London, as well as 3 locations in Tokyo. The bright and spacious interior of Hayato Omotesando, with tall windows and it's clean and modern design is sure to calm the mind. The stylists at Hayato love to create individual looks that really bring out a person's personality, while still embracing a natural look. The staff all have experience under their belt here, so rest assured they will give you the best cut.

An expertly painted balayage.
This salon has been very popular among foreigners, especially Americans, due to their masterful dyes and perms. As we all know, the beautiful thick and strong Asian hair type isn't the same as the rest of the hair types in the world. Treating many types of hair takes a little more care and fineness, and this salon delivers that. If you're specifically looking for a color or perm try this salon out!
Japan, 〒107-0062 Tokyo, Minato City, Minamiaoyama, 5 Chome−9−3 3階
Phone Number: 03-3499-6555
Website:hayatosalons.com
Shinka
This is a diamond hidden in Roppongi. Shinka is a wonderful salon about a 4 minute walk from the station. First of all, the entire staff speaks English which makes things a lot less stressful as a foreigner. This salon's customer base is nearly 50% foreigners as well, so don't feel pressure like you might be the first foreigner walking in. This also means the stylists here are used to dealing with European hair types.

The luxurious Roppongi location.
Able to balance facial structure and take into account how the hair falls and flows naturally, the stylists here are top-notch. If you're looking for a cut in Tokyo you've come to the right place. And if Roppongi is a little to crowded for you, try out the location in Azabu-Juban. Being a little more residential but still in the heart of Tokyo, you can escape to cute cafes and shops before you head into your appointment.

The feminine mid-century modern Azabu-Juban location.
Roppongi Location
Address: Japan, 〒106-0032 Tokyo, Minato City, Roppongi, 5 Chome−18−20 2F
Phone Number: 03-5575-6767
Website: shinka.com/roppongi
Azubu-Juban Location
Address:3 Chome-14-2 Azabujuban, Minato City, Tokyo 106-0045, Japan
Phone Number: 03-3455-6622
Website: shinka.com/azabujuban
assort at Gaienmae

The interior of assort's main location in Tokyo.
One of the premiere salons in Tokyo, this chain is world wide, with locations all over Japan as well as cities like NYC, Hong Kong and Amsterdam. The staff has been trained in many different places and areas, able to work with customers of many hair types. The assort group's work is featured in magazines frequently, and they are well versed in many different styles, especially the latest trends.
Knowing a wide variety of cutting, dying and perming techniques, trust that ASSORT is able to achieve whatever the customer is looking for. If you're looking for a professional cut, or just looking to experience a top quality salon in Japan, give this one a try.
Address: Japan, 〒107-0061 Tokyo, Minato City, Kitaaoyama, 2 Chome−10−28 リヘイビル B1F
Phone Number: 03-5772-6461
Website: assort-hair.com
Natura

Natura's beachy and cool atmosphere.
Natura's name comes from its goal to create functional and natural styles. From long sun-kissed beach waves, to short one length bobs, this salon can do it all. Particular about setting lengths and angles, the stylists here work extra hard to match these measurements with customers unique bone structures and proportions.
As well as balancing this, the key is in the inner cut. This is cutting the hair that you usually don't see, and is important for weight placement and controlling volume to balance a style. These styles are all easy to throw together at home, and mix fashion and trends with every day lifestyle. Give this salon a try!
Address: 5 Chome-2-15 Minamiaoyama, Minato City, Tokyo 107-0062
Phone Number: 03-6427-4742
Website: naturatokyo.com
KILLA

Stylish and fresh interior of KILLA.
Popular and in front of Meiji Jingu this salon is trendy and fresh, always working with the latest styles. The salon's knowledge of coloring and perms is vast, able to adjust and cater to the individual's hair types and needs. This salon also has developed its own line of balms, treatments and shampoos for customers to treat a variety of problems from dry hair and scalp to increasing the easy of styling.
The prices here are competitive and the service is truly wonderful, not to mention they are happy to work with foreign and domestic customers alike. The staff includes fluent English speakers so you can have a relaxing time and enjoy some conversation. Give this one a shot.
Address: 〒150-0001 Tokyo, Shibuya City, Jingumae, 6 Chome−12−2 KTビル 3F
Phone Number: 03-6427-5413
Website: killa-hair.com
BONDZ at Azabu-Juban

BONDZ salon has a very New York feel with dark wide-board flooring, black chairs and a brick wall.
BONDZ salon looks to break conventional boundaries and create new bonds between people. The staff have all trained in New York and specialize in New York style dry cuts. This is the best way to balance weight and create textures, lines and shapes.
While their techniques are outstanding, this salons is well known for its treatments. Creating their own line of products with natural ingredients sourced from Japan, BONDZ strives to create beautiful hair from the inside out. I highly recommend these treatments. Sit back, relax and try out one of the scalp massages and watch how the quality of your hair improves!
Address: 1 Chome-8-13 Azabujuban, Minato City, Tokyo 106-0045, Japan
Phone Number: 03-6426-5562
Website: bondzsalon.jp
Garden at Harajuku

The spacious and modern floor plan of GARDEN.
GARDEN is part of a popular salon chain with locations all over including New York. This salon is very active on social media, and is constantly shooting new styles and creating look-books for customers. Being up to date on all the latest trends they can offer professional services and always know how to create a trendy cut. If this sounds like what you're looking for, give GARDEN at shot. I also recommend the head spa or a scalp massage.
Address: 〒150-0001 Tokyo, Shibuya City, Jingumae, 5 Chome−2−19 表参道山田ビル 2F
Phone Number: 03-5468-8686
Website: garden-hair.jp
Mod's Hair

Mod's sense of atmosphere is warm and efficient.
Mod's is a world recognized salon chain. Originally starting in Paris and being features in Elle magazine many times, this salon is a household name in Tokyo these days. The chain began in 1968, and has grown to open locations all across Europe and Asia.
Enjoy the long history of this salon as well as receive a quality hair cut. Being so connected with Paris, the capital of fashion throughout the world, the latest trends from Europe always come here. This is a famous chain, so I recommend trying Mod's Hair if you want to visit a more commercial style salon.
Address:〒154-0012 Tokyo, Setagaya City, Komazawa, 2 Chome−1−5 コンフォリア駒澤2F
Phone Number: 03-6450-8421
Website:modshair.co.jp
COME HAIR

The smaller yet relaxing interior of COME HAIR.
A smaller salon, the owner here is extremely kind and friendly. Using natural products and offering a variety of correcting treatments and menus if necessary, this salon focuses on being environmentally conscious and also works to reduce plastic waste and used more bio-degradable products, as well as volunteering for creating wigs for children with cancer and other health issues causing hair loss.
There are some staff here who can specifically use English if you're particularly worried the language barrier, but the staff here have all trained overseas, and being a smaller salon, you get a more relaxing experience but you aren't sacrificing quality or technique. This is definitely a recommend if you want a more personal and quiet experience.

The mid-century modern accents and bright lights are wonderful.
Address:〒150-0034 Tokyo, Shibuya City, Daikanyamacho, 3−8 イオス代官山 2階
Phone Number: 03-3477-5567
Website:comeandpeace.com
Re Daikanyama

A modern yet rustic style that feels very American inspired.
'Re' has English speaking staff and the stylists here are very well trained. The salon took their name from the Latin root 're' to do again. The ideology here is to keep practicing, learning and working hard, and then repeat.
This salon has a warm rustic feel, with a lot of country American influence. Located along Daikanyama, 'Re' isn't only popular with women but men as well, with a great menu of options for everyone. Being in such a fashionable and growing area, this is a great option for someone looking for a salon a little bit outside the big spots in Tokyo.
Address: 〒150-0021 東京都渋谷区恵比寿西2丁目18−2-1F
Phone Number: 03-3780-6686
Website:re-hairsalon.com
Liike

The modern and open concept is a breath of fresh air.
After being featured in many magazines and TV programs, this trendy salon has been gaining popularity recently. 'Liike' strives to draw out the charms and nuance of each style, highlighting the individual's character and lifestyle. By making small adjustments according to things like facial structure and shoulder width, the difference between a good cut and a great cut is achieved here. Balancing the use of wet and dry techniques, precise weight placement becomes apparent, especially the next day when you're styling your own hair.
Welcoming foreign customers, this salon is happy to serve anyone and has created a warm community. If you're looking to get some hair treatments and improve your overall hair quality, this salon is also popular in this area. I encourage you to give this one a shot.
Address:1 Chome-35-5 Ebisunishi, Shibuya City, Tokyo 150-0021
Phone Number: 03-3477-1218
Website:liike.jp
Sweetroom Daikanyama

Sit back and relax at this total beauty salon.
Located 10 on foot from Ebsiu station, this highly rated total beauty salon is known for is great pricing. While enjoying the bright and spacious interior you can experience a high level of technique and service without the extra money. The staff here are kind and hard working.
With a full range of services from cuts and colors, to nails and luxury hair treatments, it's no wonder this fashionable salon has become a hit in recent years. If you're looking to stick close to the Yamanote line but avoid the bigger areas, this is the spot for you.
Address:2 Chome-21-4 Ebisunishi, 渋谷区 Shibuya City, Tokyo 150-0021
Phone Number: 03-6277-5835
Website:sweetroom-ebisu.jp
Fam Daikanyama

After careful counseling, the goal here at Fam is to create a truly easy and effortless style, that is easy to reproduce at home. Tailoring to each customers needs, a balance of wet and dry cut techniques is utilized to bring about the best results. Always ready to give advice as well, stylists really just want to give you a style that will suit your life style and fashion sense.
In terms of coloring options, they offer natural dyes organically sourced which is great for hair that is more sensitive or customer who want a change but don't want to suffer any damage or texture change. And after everything the head spa here is recommended. With multiple treatments focusing on the scalp, the main purpose is to promote healthy hair from the root out, as well as stimulate new healthy hair growth. Try it out!
Address:〒150-0033 Tokyo, Shibuya City, Sarugakucho, 9−3 Barbizon75 2F
Phone Number: 03-6416-4666
Website: fam-hair.com