Best Hair Cut in Azabu, Tokyo
The Azabu area in Tokyo is full of cute shops, streets, and also where many of the international embassies are located in Tokyo. This area is the perfect place to get an authentic experience in Japan while still having many English friendly places to try out! Here are six wonderful English using salons in the comfortable area of Azabu.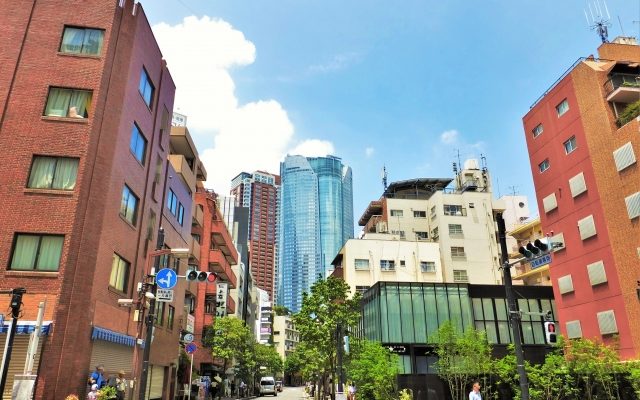 Tokyo, Japan's biggest urban center, and also one of the biggest and most economically advanced urban conglomerates in the world, Tokyo is almost like it's own country these days. Originally being established as the capital of Japan when Emperor Meiji decided to move the throne from Kyoto to Tokyo, the city was renamed Tokyo, literally meaning Eastern Capital.

A story most foreigners don't know, technically the emperor made the call to relocate the capital, however the government never actually agreed in writing during this time as the emperor's power was great enough to decide. Some people jokingly (and some serious people as well) still call Kyoto the capital.
Putting regional rivalry aside, Tokyo covers a massive area and holds even more people. As Japan becomes more and more involved in the global economy, the are more and more foreigners living in Tokyo, but where is the best place to go as a foreigner? Of course nowadays, English isn't difficult to find in Tokyo. With street and station signs all being in English getting around is actually quite convenient for those who haven't mastered Japanese yet.
One of the best spots to go as a foreigner to keep your English skills up is actually a smaller more residential area in Tokyo called Azabu-Juban. This area actually holds most of Tokyo's foreign embassies, so there are quite a lot of foreigners living and working in this area. In coincidence with this, many businesses in this area have worked to become more foreigner friendly. By hiring English speaking staff and making services more easily accessible for non-Japanese speakers this is a great spot to visit if you're trying not to forget how to speak English.
All jokes aside, this area is perfect to go get a hair cut in. While avoiding the higher prices in neighboring places like Omotesando or Ebisu, you can still get a Tokyo quality hair cut in English for less than some of the more expensive places. If you don't want to stress, or aren't looking to practice your Japanese at a salon, I highly recommend checking out this area. Let's dive in and look at 6 solid choices for the best English salons in Azabu-Juban.
BONDZ

BONDZ salon owner is a really cool guy. After graduating university with a teaching degree, he decided to ditch that path and follow his dream of becoming a stylist. He moved to New York to study and ended up opening his own salon in Manhattan.
Now he's working here in Tokyo. His specialty is a New York style dry cut. This technique is great for creating textures and especially good at balancing weight and creating solid forms. This salon also has great treatment options as well. Give this salon a try.
Shinka Azabu-Juban

This successful line of salons started out in Sydney. They've expanded to Tokyo now and offer a full English experience for their foreign customers, including a fully English phone line. Since all of the staff have trained in Sydney not only are they able to use English comfortably, but have served many customers with different types of hair.
Shinka's strengths lie in their techniques and customer service. Using top quality products such as dyes with protective qualities to a natural line of hair care products straight from Australia, taking care of the quality of customers hair is the top priority here.
A Cut Above

If you're thinking about a hair straightening treatment this is the place to go in Azabu. This salon offers keratin straightening treatments. If you have heard about these then you know about the dangers of getting this procedure done incorrectly. If done without care and without the customers hair quality in mind, it can have damaging effects, however if done correctly you can enjoy straighter, easier to style hair. This isn't so far as a perm, but more than just a temporary hot press. Many customers come here for this treatment.
This salon also offers herbal coloring treatments. This is a more natural alternative to traditional salon grade dyes. If you're looking to get some natural looking highlights or colors, a herbal option might be for you.
VIP Creative Hair International

VIP Creative is a elegant salon with many options. First off the coloring skills here bring customers from all over looking to dye their hair. From the lightest blonds to the darkest brunettes, the stylists here can help you achieve the perfect color.
This salon also has an array of spa options from facials to hair spas. And if you've thought about wearing a kimono for a festival or local event in Japan but weren't sure how to do this, VIP offers a full dressing service. From the rental to make up and how to wear and walk in your kimono, VIP can help you! Go see the fireworks this year in a traditional Japanese style!
One World

This salon has served customers from over 60 different countries since opening only 6 years ago. The fully English speaking staff have been serving the foreign community for over 10 years now and this salons success comes from this strong connection with the community.
The head spa is definitely a recommended choice if you're looking to relax a little and get away from Tokyo. Using a natural remedy coming from the Indonesian Islands, this cream is packed with fruits and herbs in a mix that will seriously improve the quality of your scalp and hair. The massage is also amazing and leaves you relaxed and ready for the week!
Hair Dress Azabu

This salon is truly one of a kind in Tokyo. A fully private salon, the owner works solo and customers must make a reservation in advance. Because he only serves 5 people a day, you'll need to book a bit ahead of time, however you get a full one-on-one experience that usually only celebrities experience.
When asked about the characteristics of his haircuts, he said a chef never reveals the secret ingredient! This ingredient probably comes from his hardworking demeanor and his time studying hairdressing in London. If you're looking for a one of a kind experience, try booking here!